Today I would like to share with you a hand-picked collection of 40+ File/Document Type Icon Sets with flat design style for your web application. This collection covers many popular file extensions like Windows applications, Adobe products, MS Office, and much more. All the file type icons listed below are available in PSD or Vector format so that you can change colors, text, shapes however you like in the Photoshop or Adobe Illustrator.
Nov 20, 2018 Update:
Jul 30, 2018 Update:
Apr 06, 2018 Update:
Adobe Photoshop, Adobe Illustrator, Adobe After effects, Adobe Premiere, Adobe Indesign, Adobe Dreamweaver, Adobe Animate, Adobe Fuse, Adobe Lightroom, Adobe Experience Design, Axure RP 8, PSD, EPS, SVG, VCF, ACC, ADT, AVI, BMP, CSV, DAT, DGN, DOC, DOCH, DOCM, DOCX, DOT, DOTH, DOTM, DOTX, DWFX, DWG, DXF, DXL, EML, EPS, F4V, FLV, GIF, HTML, INDD, JPEG, JPG, JPP, LOG, M4V, MBOX, MDB, MOV, MP3, MP4, MPEG, MPG, MPP, MPT, MPW, MPX, MSG, OGA, OGG, OGV, ONE, OST, PDF, PNG, POT, POTH, POTM, POTX, PPS, PPSX, PPT, PPTM, PPTX, PSD, PST, PUB, PUBH, PUBM, PWZ, RTF, SQL, SVG, SWF, TIF, TIFF, TXT, VCF, VDX, VSD, VSS, VST, VSX, VTX, WAV, WPD, WEBM, WMA, WMV, XLS, XLSM, XLSX, XML, ZIP.
14/01/2016 update:
25/11/2015 update:
A clean square file type icon set, feel free to use for any purpose. There are two version, black round angle & white right angle. Hope you could get little benefit from this freebie. Now you can download either .eps or .sketch.
14/09/2015 update:
06/08/2015 update:
30/06/2015 update:
Contains 30 vectorial file type icons, available in PSD, AI and SVG format, PLUS a little illustration bonus.
10/04/2015 update:
01/04/2015 update:
19/02/2015 update:
29/12/2014 update:
Pure CSS file icons. Help you create file icons with pure CSS codes. (eg. doc, pdf, png, zip and so on).
20/11/2014 update:
A set of 21 minimal file extension icons for your graphic or web design use.
06/08/2014 update:
ll icons are vector shapes and retina ready. You can change the colors or resize them as you want.
---
A lovely set of outline file icons, with different colours for different file types. They're incredibly easy to customise with your own text and colours as needed. Provided as a PSD and an AI vector.
13/07/2014 update:
22/06/2014 update:
13/06/2014 update:
This freebie includes 50 file type vector icons pre-saved in Ai, Eps, Svg and transparent Png files. File extension icons: Jpg, tiff, png, gif, ico, bmp, swf, avi, wav, 3gp, mp3, flv, mov, mp4, mpeg, divx, ae, ps, fw, dw, psd, ai, svg, eps, txt, doc, rar, ppt, zip, pdf, php, html, css, js, csv, docx, jar, bak, sys, tar, dll, gz, 7z, apk, exe, iso, gz, cdr, asf and dwg.
12/06/2014 update:
26/05/2014 Update: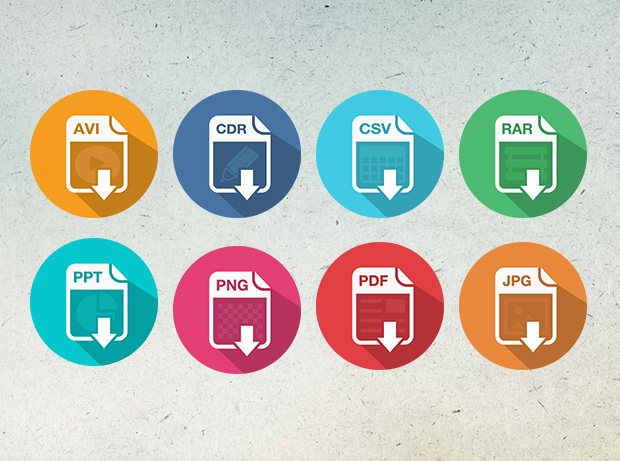 24/05/2014 Update:
A collection of 49 flat filetype icons. Included are icons for common filetypes such as text documents, spreadsheets, layout and pdf, various types of multimedia, html/css and many many more!
29/04/2014 Update:
20/04/2014 Update:
07/04/2014 Update:
Vector (.svg) and raster (.png) icons. Free for personal/ commercial use.
28/03/2014 Update:
26/03/2014 Update:
20/03/2014 Update:
14/03/2014 Update:
A set of 50 different file extension icons in AI and PNG format.
01/03/2014 Update:
Includes PDF, DOC, PSD, PNG, ZIP, RAR, MP3, MKV, TXT, JS, HTML and CSS.
Zip file includes .ai, .icns, & .png versions. Use them for whatever you want. Containing PSD, AI, AEP and Proj
Includes ZIP, Doc, Xls, PPT, Jpg, Mov, Apk, Pdf, Ics, html, Rar and Mp3.
File Type Icons is a set of 62 different file extension icons in AI, ICO and PNG format. They are designed in long shadow flat design style, which looks very neat and modern. You can easily change the colors as well.
Includes avi, bmp, doc, html, gif, jpeg, pdf, mid, rar, psd, mp3, png, txt, zip, wav, wma, wmv, mpg and more.
Includes ae, ps, ai, id, fl, dw, eps, psd, indd, fla, pdf, avi, mp4, mp3, png, jpg, html, xlsx, doc, fw, css, ppt, pptx, docx, xls, etc.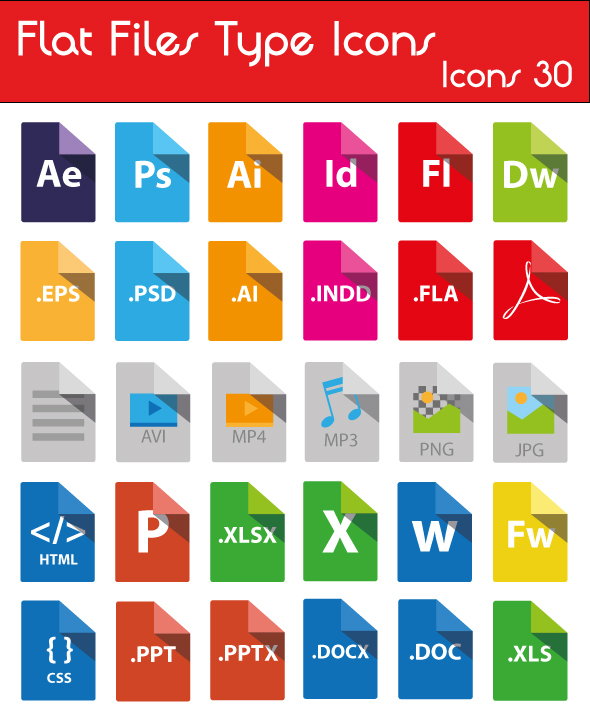 Included 29 icons in .ico and .png + simple template to create your own.
63 file type/extension icons.
21 free psd file extension icons that consist of the following icons; pdf, ai, psd, jpeg, docx, xls, mp4, avi, mpeg, html, ppt, wav, txt, mov, mp3, png, zip.
Includes PDF, DOC, PSD, PNG and JPG.
Includes PSD, EFS, INDD.
5 flat PDF document icons in different colors.
---